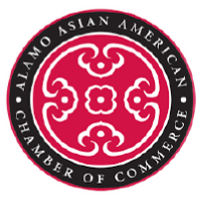 Welcome to

Alamo Asian American Chamber of Commerce
The Alamo Asian American Chamber of Commerce's main goal is to provide meaningful benefits to its members to assist them as they pursue their goals of growth and success. The chamber presents six series of programs that comprise nearly 35 programs either presented or sponsored by AAACC.
Those series of programs include:
​
(1) Small Business Solutions;
(2) Leadership Development featuring local executives who connect with the International Community through their services or businesses;
(3) Asian Business Etiquette for Executives;
(4) Networking Mixers;
(5) Asian Delegations Relations and Hospitality; and
(6) Executive Business Tours To Companies that either serve Asian markets, clients or products entering or exiting the U.S.
PARTNERS